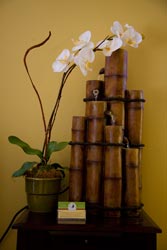 Carola Stepper, LAc, RN retired, is a Licensed Acupuncturist and owner of Cascade Acupuncture Center, with clinics in Hood River and The Dalles. Since 2005 she has volunteered her time to give free health lectures in the Gorge, up to 40 per year! Her lectures at the MCMC lecture series, Lions Clubs, Rotary Clubs, Google, Insitu, Hood River Community Education and other venues have been very well received. Her presentations have been described as informational, motivational and entertaining.
All of the lectures are powerpoint presentations, except #1-4. They are around 20-45 minutes and provide education, interesting facts and natural healthcare information to treat the conditions discussed. We recommend #1 if it is a first time lecture request. If you chose #5-20, we kindly ask that you provide a space to project the powerpoint presentation, we have a projector.
Carola has taught #3 Acupressure for Kids and Parents at the local Montessori School as well as the Columbia Gorge Peace Village Summer Camp and the kids, teachers and parents gave her great reviews.
Call (541-387-4325) or email (pr@cascadeacupuncture.org) us and provide us with the lecture number, we can arrange for a special presentation for you and your co-workers or organization at your office or at either of our offices.
These Health Lectures are given free of charge in the Columbia Gorge area for a minimum of six people registered.
Introduction to Acupuncture,

including Self- Acupressure Techniques (no power point)

Introduction to Allergy Elimination

(no power point)

Acupressure for Kids and Parents

(no power point)

Health and Stress:

Information how different stressors are affecting us and helpful strategies (no power point)

Natural Solutions to Headache Pain
Five Secrets to Permanent Weight Loss
Natural Solutions to Improve Fertility
Balancing Hormones Naturally:

A Holistic approach to Women's Hormone Related Health Concerns

Whiplash & Auto Accident Injuries:

Find out how Acupuncture can help you get relief from your pain, naturally

Stay fit while you sit:

Information on ergonomics in the office and exercises

Understanding Fibromyalgia:

A Holistic Approach to chronic Pain and Fatigue

Carpal Tunnel Syndrome
Natural Solutions to Digestive Problems
Trigger Point Therapy,

including practical instructions to release neck and shoulder tension, come with a partner.

Arthritis:

Alternative Approaches to preventing and handling Arthritic Pain

How to prevent and Eliminate Low Back Pain
How to Increase and Maintain your Energy, Vitality and Youth
Reduce Depression
Improve Athletic Performance
Sleep Problems