Opening of the Chinese Herbal Pharmacy in Hood River, 2010
Opening of the Second Cascade Acupuncture Clinic in The Dalles, Oregon, 2006
Opening of the First Cascade Acupuncture Clinic in Hood River, Oregon, 2005
Awards
Best of the Gorge for Acupuncture 2021
Thank you to the community and patients who voted for us!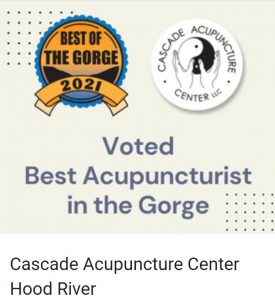 We didn't even know we were nominated.  We're honored we get to serve you, the community, be well and live your best life of health and wellness.  Thank you to Gorge Radio for creating and facilitating the award.
Tod LeFevre Sustainability Awards
Thanks to all who nominated locals for the 3rd Annual Tod LeFevre Sustainability Awards! The awards were presented by Tod's wife Marti on April 20th 2013 at Springhouse Cellar at the GO! Earth Day Party.
Cascade Acupuncture Center is a stellar example of a regional business that is committed to reducing its environmental impact, investing profits back into the community, offering products and services that are gentle on the planet — all while running a profitable business.  Cascade Acupuncture Center has taken steps to significantly reduce water and energy use at its clinics and purchases 100% renewable energy. In The Dalles, it converted the trash and weed-filled land behind its clinic into a community garden, creating a way for locals to affordably grow their own food. Cascade Acupuncture Center offers its services at a sliding scale to community members that cannot afford treatments. And the company donates 1% of NET profits to organizations in the community that are doing work to heal the planet and make the Gorge a better place.  See more under How we are green.
Cascade Acupuncture wins Gorge Region Small Business of the Year Award in 2007 and 2010
The following is the press release issued by Mary Merrill of the Small Business Development Center in announcing our award recognition:
Cascade Acupuncture Center wins Columbia Gorge Region Small Business of the Year Award for 2010
The Small Business Development Center at Columbia Gorge Community College has selected the team at Cascade Acupuncture

Center as the Columbia Gorge Region Small Business of the Year award recipient for 2010.
This award, which required an extensive application process and five letters of recommendation, is based upon several factors, including general business growth, innovation and contribution to community oriented projects.
Business of the Year 2007 and 2010 
The Cascade Acupuncture Center team were also nominated for the statewide Small Business Administration (SBA) Oregon Business of the Year award for both 2007 and 2010.