No charge – no obligation, come check us out!
Receive a 15 minute consultation with the Acupuncturist, including a clinic tour.
In the Hood River office this includes a tour of the Custom Chinese Herbal Pharmacy.
Chinese Medical Pulse diagnosis – find out more about your overall health.
Brief discussion of your health concerns.
Complementary insurance verification or explanation of our fee schedule.
PLUS a mini trial Acupuncture treatment, if desired. This treatment is focused on stress reduction.
We are happy to answer your questions and share financial information prior to you starting care in our clinics.
Many people are either curious or possibly concerned about our needles, we hope our a free mini trial Acupuncture treatment will be helpful
You have three options to set up your appointment:
Call now and mention "15 minute free consultation" to reserve your appointment! Let us know if you want to learn more about Allergy Elimination and we will show you our test vials we use to muscle test for allergies and answer any questions you may have.
Email now and mention that you would like a "15 minute free consultation," we will contact you to set up your appointment. Please include your phone number to make this process faster.
Fill out and submit the Stress Survey below, this will be helpful information for you and for us at your vist. We will contact you to set up your appointment.

Please bring an interpreter to your first visit if you feel your English not proficient to communicate your medical information to us, thank you!
The Fine Print:
Free Consultation Offer valid for new clients of Cascade Acupuncture Center only. Limit one per customer. Appointments are required. 24 hour cancellation notice requested. Cannot be combined with any other offer or promotion.
Do you know a friend, family member or co-worker who lives locally and has health concerns?
Please consider sharing this offer with them – you may be part of changing their life!
Thank you.
Our COVID updated waiting room in our clinic in The Dalles: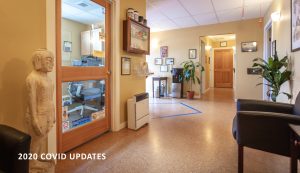 ---
Stress Survey
The Purpose of this STRESS SURVEY is to determine if any health problems you may be having are due to stress. All information is kept in strict confidence and we never share or give out your information. Please fill out the following information and click the "Submit My Stress Survey!" button at the bottom of the form when done.