Special 40 min focus treatments designed to address stress, boost your energy, immune system and overall happiness.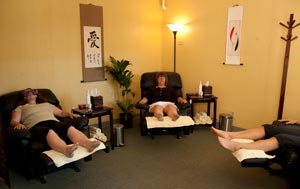 Available at 12:45pm and 5:45pm in Hood River and The Dalles all days.
You may call for a same day appointment and we will offer you any available appointment times! 
Happy Hour Acupuncture Treatments are $25 each and cannot be billed to insurance. These treatments focus on boosting energy, immune system, overall happiness and address stress reduction. Every client gets the same treatment, every time.
Any specific health concerns, such as pain, need to be addressed with regular Acupuncture treatments, which can be billed to insurance.
Pay 4, get 5 (1 free), save $25, price per Happy Hour Acupuncture treatment: $20, total cost: $100
This pricing is very comparable to pricing at Community Acupuncture Clinics.
No insurance billing is available for Happy Hour focus treatments, however we can bill all other treatments during regular business hours to any insurance with Acupuncture coverage.
With a login and password available at our offices clients can schedule themselves online for their treatments through our website, once they have had their first treatment.
Consider giving these treatments as a gift!
To address any other specific health concerns clients need to come in during our regular business hours.
Please bring an interpreter to your first visit if you feel your English not proficient to communicate your medical information to us, thank you!
History of the Happy Hour Treatments:
In 2008 the banks crashed and suddenly everybody was more stressed and financially tight. Our creative business answer was to offer treatments which focused specifically on stress and were more affordable – our Happy Hour Acupuncture treatments!
Many of our clients love these simple yet effective treatments and do them every other week ongoingly – for $40/month!